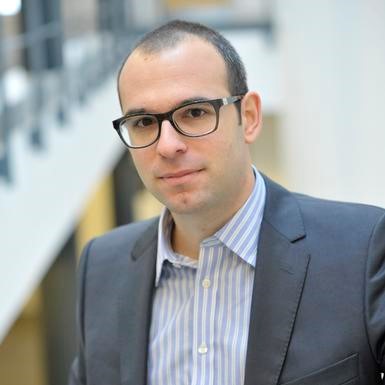 Markos Zachariadis
Professeur associé, Systèmes d'information et innovation, Warwick Business School (GB)
Biography
Les travaux de recherche de M. Zachariadis se situent au croisement de l'économie de l'innovation numérique, de la technologie financière et de l'économie du réseau. Il a étudié de manière approfondie l'impact économique des technologies de l'information sur la performance des banques, la diffusion des réseaux de paiement, le rôle des données et des normes dans les infrastructures de paiement (SWIFT) ainsi que sur les marchés financiers (LEI). Les travaux de recherche de M. Zachariadis figurent dans des revues scientifiques de renom (ex. MIS Quarterly, Research Policy). Il est récipiendaire du prix NET Institute (NYU Stern Business School) pour ses travaux portant sur l'économie des réseaux de paiement, ainsi que des prix du SWIFT Institute et du GRI Summit pour ses recherches sur les API ouvertes et la transformation numérique dans le secteur bancaire. Il est également coauteur du livre The Society for Worldwide Interbank Financial Telecommunication (SWIFT) (2014) et coéditeur du livre The PAYTECH Book (2019).
Zachariadis est conseiller, mentor et conférencier international. Il a été invité à intervenir dans plusieurs conférences et organisations internationales (Parlement britannique, SIBOS, Money2020, Sommet de la GRI, Banque d'Angleterre, Microsoft, Innovate Finance Global Summit, SWIFT, IBM, Financial Times Leadership Series, EY, Banque de Chypre, Z / Yen, APIdays, etc.) Il a également été l'organisateur d'une conférence internationale à la Warwick Business School sur l'innovation PayTech financée par la Fondation Gates, MasterCard et Capco. En tant qu'expert reconnu, M. Zachariadis intervient très souvenant dans des médias tels que The Times, World Finance, Banker Magazine, Financial Times, Bloomberg, Fortune Magazine, BBC, CNN, The Telegraph, Sky News, USA Today, ITV News, The Conversation, pour ne nommer que ceux-là.
When thinking about digital transformation in financial services it's impossible not to include Open Banking as one of the most influential trends that will potentially shape the future of finance. Having said that, Open Banking is much more than just a technological revolution. It requires a drastic re-think of the existing business models that banks have utilised for decades and a fundamental shift in strategy and ways of innovating. Taking lessons from earlier implementations of open banking in the United Kingdom (CMA) and the EU (PSD2), in this session we will be discussing the strategic choices as well as challenges and opportunities in the emerging Open Banking era. We will examine the state of affairs and dynamics of the open banking ecosystems and the role of platform-based business models in that context.